Sports Betting In Arizona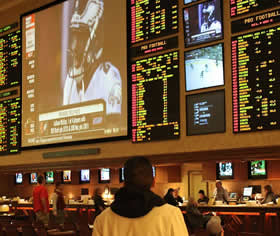 There are a few things you should know before you dive into sports betting in Arizona. On this page, we've included some of the basic information you're going to need, like how old you have to be to bet on sports in your state, as well as the sports betting laws in Arizona. We've also listed popular teams that residents can choose to wager on while betting on sports in AZ. Here, you'll also find answers to some of the most common questions other residents had while trying to get involved in this popular form of gambling. Fr om deposit questions, to how using online sportsbooks is beneficial, we will try to help any and all residents looking for information when trying to put action on the next big AZ sports matchup.
Does Arizona Have Legal Land-Based Sports Betting?
Arizona does not currently have land-based sports betting facilities but they are coming in the near future. Gambling operations in Arizona are primarily controlled by the tribes who signed a new tribal compact with AZ Governor Doug Ducey. As part of this compact, 10 tribes will have the ability to offer sports betting in their casinos. On top of that, 10 professional sports venues such as the Phoenix Suns arena and TPC Scottsdale golf course will offer sports betting onsite. There is hope that land-based sports betting in Arizona will come as soon as the 2021-2022 NFL season begins as the target date set by state officials is September 9. Betting on all sports will be available at each of these locations, even the ones located in local sports venues.
Is Online Sports Betting Legal In Arizona?
Yes, online sports betting in Arizona is legal. Provisions for online sportsbooks were included in the tribal compact that passed the state legislature in 2021. Any company that wants to launch an online sportsbook in Arizona will have to partner with a licensed land-based location. Each land-based location will have the ability to offer one online sports betting skin. This effectively means there can be up to 20 online sports betting sites based in Arizona when the market fully matures. The first of them are slated to launch on September 9, 2021. But, these won't be the only forms of legal online sports betting in Arizona. Currently, online sportsbooks based overseas accept Arizona bettors and offer odds for professional and college Arizona sports teams as well as sports happening all over the world. These sites even let you bet with cryptocurrency which won't be offered at local sportsbooks. These sports betting sites are not mentioned in any AZ law books meaning you can't be punished for using them.
Which Sports Betting Sites Accept Arizona Residents?
At this time, the only sports betting sites that accept Arizona residents are ones based overseas. Online sportsbooks that are located in different states won't accept Arizona residents due to the way federal laws are set up. But, those laws don't apply to sports betting sites that are regulated in other countries. Once online sports betting sites launch within the state, they will all accept AZ residents of the legal age. But, even then the sites we feature here on this site will accept residents of the Grand Canyon State and offer them a chance to shop lines and get better odds on local sports teams.
Arizona Sports Betting Laws And Statues
All current Arizona sports betting laws and statutes can be found within AZ HB 2772 and AZ SB 1797. In 2021, Arizona Governor Doug Ducey was able to renegotiate the tribal gaming compacts held in the state. In order to solidify the new compacts to include sports betting, the two bills had to pass through the state legislature. That happened in April of 2021 and Governor Ducey signed off on the bills the same month. The Department of the Interior published the compact on a federal level the following month in May which formally legalized sports betting in Arizona.
Arizona sports betting laws and statutes give way for land-based and online sportsbooks to operate. They allow for 20 total land-based sportsbooks, 10 of which will be operated at professional sports venues and racetracks, while the other 10 will be operated at tribal casinos. Online sportsbooks will have to partner with these land-based locations. There will be an 8% tax on all revenue that sportsbooks generate. This will be for both land-based and mobile operators. This tax doesn't apply to local AZ gamblers but any major winnings will have to be reported on individual taxes, the same as casino winnings are treated. Those who wish to bet on sports in Arizona will have to be 21 years old or older. This applies to people trying to use sports betting sites that are regulated overseas as well.
Types Of Arizona Sports Betting Bonuses
One of the best reasons to join a sports betting site that accepts Arizona residents is that they offer profitable bonuses that the land-based establishments can't compete with. Each site will have unique promotions and rewards that will keep on adding extra money to your account just for being a loyal member.
You will find Welcome Bonuses, which will add a certain percentage to your first deposit. These are great for getting you into the thick of the sportsbook and making some initial bets without damaging your bankroll. Most sites (all of the ones we review) also have Reload Bonuses, which work much like the Welcome Bonuses except that they reward you for all qualifying deposits throughout your entire sports betting career. Arizona residents are in for a wealth of extras just for joining one of these esteemed sportsbooks.
Top Arizona Sports Betting Sites
Rank
Online Sportsbooks
Bonuses Offered
Rating
US Players?
Play Now!






Other Forms Of Gambling Available In Arizona
Arizona residents most likely know they can play lotteries and bingo in certain places, but did you know Arizona is home to more than 20 Native American casinos? These tribal owned and operated gambling facilities are spread throughout the entire state and offer everything from craps and roulette to blackjack and slots.
If casino gambling isn't your thing, however, you are more than able to bet real-money on sports right from your computer at some of the best legal sports betting sites. Although Arizona is lax when it comes to gambling, its lack of commercial casinos is a good sign that it will not be launching regulated online casino gambling or in the future.
Does Arizona Allow Pari-Mutuel Betting?
Possibly due to the heat, Arizona does not have that many live racing tracks. Three is more than most states when it comes to thoroughbred racing, however. These include Turf Paradise in Phoenix, Rillito Downs in Tuscon, and Prescott Valley's Yavapai Downs. Pari-mutuel betting is available at all of these tracks, however, pari-mutuel betting on horse racing is also available on all of the sports betting sites we previously recommended.
How Old Do I Have To Be To Bet Sports Online In Arizona?
Arizona has a flat age requirement for all gambling activity in the state. In Arizona, you have to be at least 21 in order to bet sports online. Some online sportsbooks will allow you to sign up at 18, but to avoid any problems when you attempt to withdraw, we recommend abiding by your state's proscribed age requirement when sports betting in Arizona.
What Teams Can I Bet On In Arizona?
Sports betting in Arizona can actually be done on any team in the country or even overseas. But for residents who want to back their home teams, we've provided a short list of the most popular teams in the state. The college teams on this list have a wide selection of both men's and women's programs.
College:
Arizona State Sun Devils
Arizona Wildcats
Northern Arizona Lumberjacks
Professional:
Arizona Cardinals (NFL)
Arizona Rattlers (AFL)
Arizona Diamondbacks (MLB)
Phoenix Coyotes (NHL)
Phoenix Mercury (WNBA)
Phoenix Suns (NBA)
Can I Signup At More Than One Sportsbook?
The question you should be asking yourself isn't "can I signup at more than one sportsbook" it should be "why haven't I signed up at more than one sportsbook?" There are so many ways having multiple accounts is beneficial to sports betting in Arizona.
First, players can shop the odds. Most sportsbooks won't have the exact same lines, so you can pick and choose which lines you think are more beneficial to you for a higher payout. Having multiple sportsbook accounts also assures you that you'll always be able to find odds on an event. If one book doesn't cover it, you can just go to another book that does.
Another great advantage to signing up for more than one sportsbook is a deposit method called book to book transfers. This feature allows you to transfer funds from one account into another so that you don't have to deal with withdrawal fees or deposit limits. Doing this allows you to really maximize your money.
Best Deposit Methods For Arizona Residents!
If you're looking for a way to fund your account quickly, try using bitcoin as your deposit method. With bitcoin, you can transfer large sums of money through a secure source, ensuring that your deposit arrives quickly and safely. This deposit method also allows players an extra sense of anonymity, because you don't need to put your financial info onto the page.
Using a credit card is the most traditional way to deposit to your online sportsbook account. This method is incredibly secure. We like to put it this way – if you purchase things off amazon, you should have no qualms about using your credit cards at an online sportsbook. The payments are processed the same way. When sports betting in Arizona, there are a number of different ways to fund your account. These just happen to be two of the best.